Page 3 of 28 •

1, 2, 3, 4 ... 15 ... 28


Best solutions (Milovan, Zafer, Zoran & Gerhard)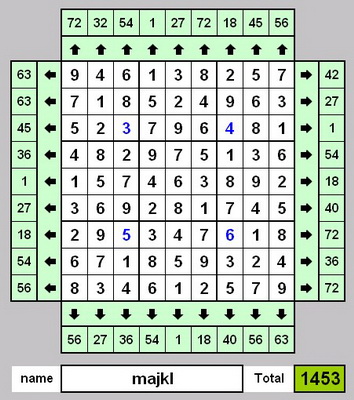 Last edited by Admin on 15th February 2017, 20:53; edited 1 time in total
Overall standings 2017th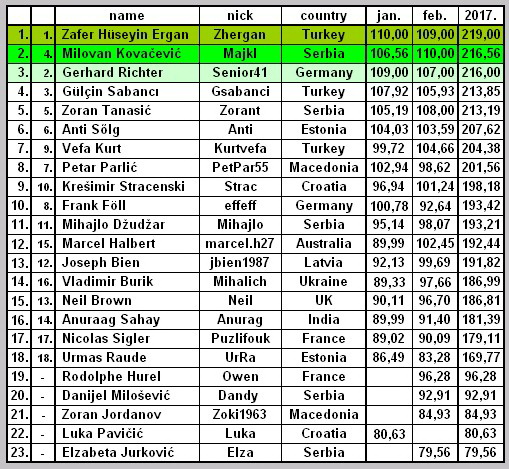 March optimization - Masyu
03.03 - 19.03. (20:00 cet)
OBJECTIVE: Make single closed loop according to Masyu rules: Passing through yellow cell on loop you must pass straight through it, and make a right-angled turn on at least one side of the yellow cell (before or after). Passing through green cell you must make a right-angled turn in it, then go straight through the next cell (till the next one) on both sides. 
Cells belonging to loop mark with
X
. You can go only horizontal and vertical.
CALCULATION: Only cells on loop give points (see example).
 Every gray cell give
-1
, yellow and green give
2
points. If, ignoring gray cells, exactly two cells in series are in same color then both of them give additional 5 points. Calculation will be done after loop is closed.
Maximize your score.
___________________________________________________________
ZADATAK: Konstruišite jedinstvenu zatvorenu petlju po pravilima zadatka Masyu: Kroz svako žuto polje u sastavu petlje morate proći pravo, ali u polju pre i/ili posle žutog polja morate skrenuti, dok na svakom zelenom polju u sastavu petlje morate skrenuti, ali kroz polja pre i posle zelenog morate nastaviti pravo (za označavanje petlje koristite slovo X). Možete se kretati samo vodoravno i uspravno, po sivim i obojenim poljima.
OBRAČUN: Boduju se samo centralna polja duž petlje (pogledati primer). Svako sivo polje vredi -1 poen, žuto i zeleno 2 poena. Ukoliko su, ignorišući siva polja, duž petlje tačno dva polja u nizu iste boje, onda svako od njih donosi dodatnih 5 poena. Obračun će biti kompletan kada zatvorite petlju. Maksimizujte svoj rezultat.
Page 3 of 28 •

1, 2, 3, 4 ... 15 ... 28


---
Permissions in this forum:
You
cannot
reply to topics in this forum