Page 18 of 25 •

1 ... 10 ... 17, 18, 19 ... 21 ... 25


July Optimization

30.06. - 15.07.
Objective: Form groups for 1. and 2. round from given teams, and then draw for quarterfinals, semifinals and final. In a group phase (RI and RII), 2 teams from each group go to next round. Ina case of same number of points - you decide who is going to next round. In the elimination phase (QF and SF), in every match winner is team with more points and goes to next round. Tie is not alowed.

Calculation: In a 1. and 2. round every letter has value equal to number of occurence in a names of teams from same group. In further rounds, value of each letter is equal to number of occurence in a names of all teams in that round. Sum of letter values in a team name in each phase is devided with length of name and multiplied with 100. Points are transferred to next round and added to result. Final result is absolute difference of finalist's points. Maximize final result. Remark: all calculations is rounded to whole numbers (integers).
Zadatak: Od reprezentacija sa popisa, treba formirati redom grupe 1. i 2. runde, a zatim parove četvrtfinala, polufinala i finala. U grupnoj fazi (RI i RII), po 2 tima iz svake grupe nastavljaju takmičenje, a u slučaju istog broja bodova vi odlučujete ko ide dalje. U eliminacionoj fazi (QF i SF), iz svakog para, dalje ide tim sa više bodova. Nerešeni "rezultati" nisu dozvoljeni.

Obračun: U 1. i 2. rundi, svako slovo vredi onoliko koliko se puta pojavljuje u nazivima ekipa iste grupe, a u nastavku takmičenja svako slovo vredi onoliko koliko se puta koristi u nazivima svih ekipa iste faze takmičenja. Zbir vrednosti svih slova jedne ekipe, u svakoj fazi, deli se sa dužinom naziva i množi sa 100. Bodovi se prenose u narednu fazu i sabiraju. Konačni rezultat je apsolutna razlika bodova finalista. Maksimizujte svoj rezultat. Napomena: Svi decimalni rezultati se zaokružuju na celi broj.
Table for July Optimization
(Correction of solutions and results due to the use of letters I without point)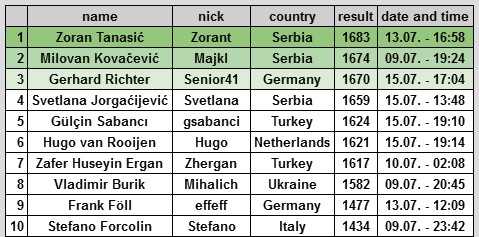 Congratulations Zoran, Milovan, Gerhard and Panama 

Last edited by Admin on 17th July 2018, 01:38; edited 1 time in total
Last edited by Admin on 17th July 2018, 01:39; edited 1 time in total (Reason for editing : Correction of solutions and results due to the use of letters I without point)
Page 18 of 25 •

1 ... 10 ... 17, 18, 19 ... 21 ... 25


---
Permissions in this forum:
You
cannot
reply to topics in this forum