Page 26 of 33 •

1 ... 14 ... 25, 26, 27 ... 29 ... 33


October Optimization
Arrows
28.09. - 14.10.
OBJECTIVE: Put numbers 1, 2 and 3 in colored cells at top left. That will give values all colored arrows in a grid. Choose any cell in a second grid and put there number 1. Pick any empty cell in a direction pointed by arrow from chosen cell and put there number 2. Continue that process as long as you can.


CALCULATION: For every marked arrow on your way you get 1 point and arrow value (according to color value). Maximize your result.
ZADATAK: Najpre u 3 obojena polja gore levo treba upisati brojeve 1, 2 i 3, čime će biti određena vrednost svake strelice. Odaberite bilo koje polje u drugoj mreži i upišite broj 1, a zatim u bilo koje slobodno polje, u smeru odgovarajuće strelice iz 1. mreže, upišite broj 2 i tako redom.


OBRAČUN: Za svaku označenu strelicu dobijate 1 poen, plus odgovarajuću vrednost strelice (1, 2 ili 3). Maksimizujte svoj rezultat.
Table for October Optimization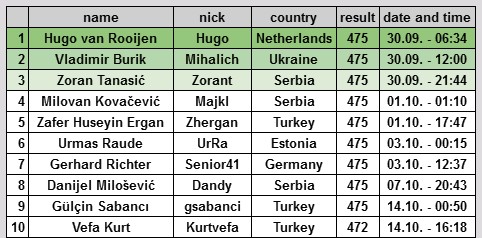 Congratulations Hugo, Vladimir and Zoran!
Page 26 of 33 •

1 ... 14 ... 25, 26, 27 ... 29 ... 33


---
Permissions in this forum:
You
cannot
reply to topics in this forum